Listen In to Yourself 
Hindsight is always 20/20…they say. When you have an uncomfortable feeling deep inside your gut and you don't follow it. In many cases, you end up saying to yourself, " Why didn't I follow my own instincts, my own intuitive feeling when I felt it was right…or not right?"
What if you didn't dismiss that little voice, and actually listened to your inner voice? That small, gentle voice that tries to guide you through the trials and tribulations of life. You will give yourself the Gift of Listening Into Yourself. The power to make decisions more confidently and in many cases, the right choices. 
Tuning Into Yourself
It's just a matter of "tuning into" yourself on an inner soul level. And tune out "the noisy world" and turn inward to see what sets "right" with you internally. Don't try to do the right thing or or what is expected of you every single time. Take time to listen to what is right for YOU. Sometimes on the surface, the right thing is not always right for you.
As you know I am a big fan of meditation. It really does help you to relax and reflect on thoughts and life things on a subconscious level. And the best part is, that it takes away some of the negative thinking in your life, without a lot of effort on your part. Nagging topics that you couldn't work out in everyday life, seem to come up with their own solutions without you agonizing over the right decision. 
Deprogram and Listen 
From personal experience, it may take a month or so for you to deprogram yourself from not listening to your inner self. For many of us, this process of overriding your internal listening in system is so ingrained that it is difficult at first. The key is being still enough, even for a moment to hear what you have to say inside. 
I think if everyone took a moment when making decisions in their lives to listen to their gentle, quiet whisper inside you would be amazed at what it reveals to you. Sometimes it's not what you would think to do in your life. 
"The gateway to listening to yourself,

illuminates your soul."

Inci Jones Artist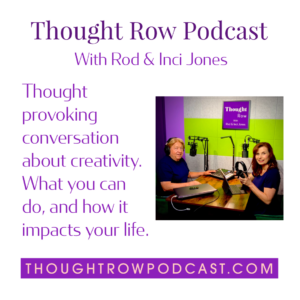 If you like this post, you may want to tune into our Thought Row podcast. It's a wonderful way to nurture and develop your creativity & motivation in a somewhat noisy world. Stay well my friends ~ Inci